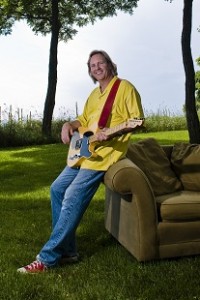 Jim has been in the music business in Canada since 1976. His early career found him working in the area of Children's Entertainment. In 1980 he began working in the touring version of THE POLKA DOT DOOR, a children's television show produced by TV Ontario. He opened the show with a small set of children's songs and would later don a costume and become THE POLKA ROO, an eight foot character that looked like a cross between a giraffe and a kangaroo.
In 1983 Jim met and began performing with Ernie Coombs, better known as MR. DRESSUP, star of the long running hit children's television show on the CBC, Canada's national television network. In the beginning Jim would open the show with a musical performance and come out later to sing more songs with Ernie. As time went on this format began to change. With the retirement of Judith Lawrence, the long time puppeteer for the television show and creator of the famous puppets Casey and Finnegan, Jim began to perform them on stage. He also began to have more bits with Ernie on stage and by the time the tours ended in 1997 Jim was sharing the stage with him for almost the full 60 minutes. Over the course of 15 years, Jim toured across Canada with Ernie 7 times, visiting just about every major and minor city and town in the country and entertaining thousands of Canadian children and their parents.
In 1986 Jim began to write for the TV show and completed in the following years some 30 or so original scripts. With the loss of Casey and Finnegan, 6 new puppets were added and Jim began performing one of them, a loveable little boy named "Alex." He also appeared as a regular musical guest and can still be seen on re-runs on this still hugely popular television show.
Jim has three CD's out for kids…AROUND THE WORLD, ON MY STREET, and THE CROSS CANADA MUSICAL JOURNEY. This last recording is part of a musical programme for junior and intermediate students he puts on in schools throughout the GTA.
In 1997 Jim finished his first solo recording for adults entitled FROM AWAY.  A collection of 10 songs in an acoustic "singer' songwriter" style.  In September 2011 he released his long overdue second effort, BANANA MOON, a more Adult Contemporary recording of 10 original and 1 cover song.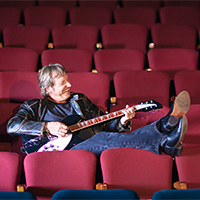 Spring 2012 has seen him complete his third recording, TOMORROW'S YESTERDAY, which is more "Roots Rock/Americana" in style.
Jim continues to work closely with the Durham Board of Education in their "Artsmarts" programme and is a songwriting mentor with SASS (The School Alliance of Student Songwriters). In addition he has received 4 grants from The Ontario Arts Council to work as an Artist in Education with "at risk" students at the Durham Alternative Secondary School in Oshawa and Pickering, Ontario.
Jim lives in Whitby, Ontario with his wife Sue, their two sons Jordan and Danny, and their dogs Sheena, Hamish and Gracie.